Boise Area Services (Computer Tech Support & Tutoring)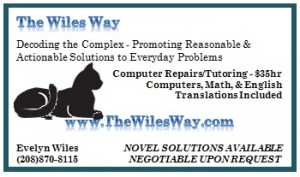 Please call for an appointment.

Office Hours: 3-10pm Thurs-Sat
The Wiles Way provides these services with a 2hr minimum:
► Residential services for PC/Computer Tech Support:
Connectivity (to the Internet and Printers)
Data Recovery
Hardware and Software issues
Slow computer issues and suspected adware, malware, and viruses.
► Tutoring in:
Math
English
End user computer use and repair.
► Individual services at $35 per hour
►Group rates are $35 for the first person, plus $15 a person per hour
Services provided beyond 25 miles of 83709 incur travel related expenses.
Discounts:
Veterans & Seniors: 5% discount for Veterans & Seniors.
Referrals: Provide referral information (if not on file) and referrer and referred receive a $5 discount on services (if not paid advertising). Valid only to new referrals that lead to providing an individual or a group with services. You may not refer yourself, but you may (for example) use The Wiles Way's website or a shared Facebook (or other social media) post as a referral.